From 72 days to 55 hours, the shortest celebrity marriage and the reason behind
Marriages are made in heaven, thus the marriage rituals are celebrated as festival in all over the world. Now Sonam Kapoor and Anand Ahuja's wedding is the talk of the town. Today is the D-Day for them and their wedding pictures are catchy and adorable. There are many couples who had tied a knot for the life, but their marriages came with an expiry date. In the time of the weddings, we are talking about the celebrity marriages that broke up within a short span of time. Weeks ago John Cena and Nikki Bella called off their relationship, just before days of their wedding.
Who can forget Kim Kardashian and Kris Humphries's highly televised wedding. However, it's not their wedding that made headlines, but their divorce that shocked one and all. They called off their marriage just 72 days after their wedding. You are looking shocked already, hold your heart because the following couples will leave you stunned with their bizarrely broken marriages.
Axl Rose and Erin Everly – 26 days
Axl Rose, penned the song Sweet Child O'Mine for Erin Everly. Their marriage left everyone stunned as  Erin accused Axl of sexual battery and assault. She even claimed that Axl thought he was possessed by the spirit of a Led Zeppelin drummer. The settlement was made out of court.
Mario Lopez and Ali Landry – 18 days
The most popular host Mario Lopez's marriage called after two weeks when his wife Ali Landry had found out that Mario had cheated on her at his bachelor's party, just days before their wedding.
Eddie Murphy and Tracy Edmonds – 14 days
Eddies and Tracy released a joint statement two weeks after their wedding, stating that they won't be making it legal. Their "symbolic union," did not last.
Carmen Electra and Dennis Rodman – 9 days
If you are a fan of 'Friends' then you must have remembered Rachel and Ross get drunk married in Vegas or if you have watched 'Ek Main Aur Ekk Tu' in which Kareena and Imran got drunk married and then applied to void their wedding. If yes, then you will be surprised to see that this kind of marriage not only happened in reel but in real life also. Carmen and Dennis also got married in a similar manner after a drunken night and then Dennis applied for an annulment after 9 days.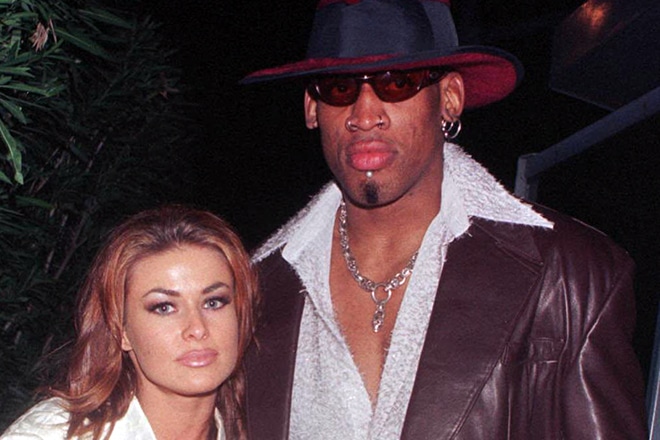 Britney Spears and Jason Alexander – 55 hours
Pop queen Britney Spears married to Jason Alexander and asked him to annulled the marriage only after 55 hours. Shattered Jason then said in an interview that he was in love, got hurt and signed the the annulment paper because he was being nice. In an interview he had said, . "Nice guys finish last. Look out for yourself. If you are going to really get involved into a relationship with a celebrity and you are just an average Joe, make sure you are thinking business!"
By: Anurag Panchal