BJP Minister spotted Urinating In Public Harbhajan Singh Slammed, opposition demanded resignation
Indian Prime Minister Narendra Modi launched "Swacch Bharat Abhiyan" to make country clear. As a part of abhiyan, a good number of toilets are constructed in several parts of India and set a good example. Many celebrities as well as ministers supported him and promoted cleanliness.
However, there are some ministers of the ruling party who failed to keep their word. We can see an example of it. A photo is going viral on the social media in which a man is spotted urinating on a wall in the Jaipur city and the man is no one but Rajasthan's Health Minister Kalicharan Saraf. The result is as expected social media started trolling him and slammed him for his behavior.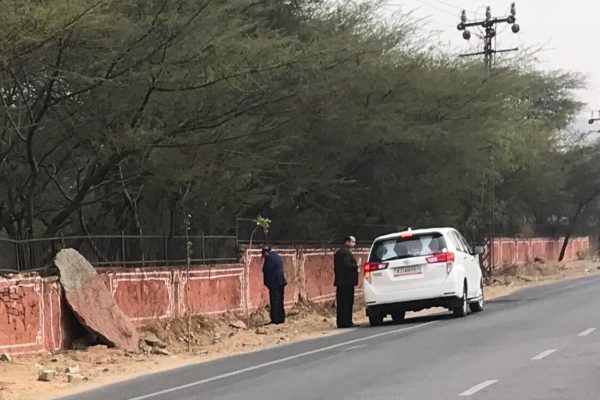 Undoubtedly, this will make troubles for Rajasthan unit of BJP as their own minister has put them in an embarrassing situation at the time when the state government is making great efforts to improve rank of Jaipur in Swacch Bharat Abhiyan.
Kalicharan switched his phone off, thus mediapersons are unable to contact him, but as per the ANI report, when they contacted them him reasoned them as "not that big an issue."
Govt talks about #SwachchBharat Mission but health minister here in Rajasthan is caught urinating in public. Govt should be ashamed and must publicly apologize: Raghu Sharma,Congress on viral picture of Rajasthan Health Minister Kalicharan Saraf urinating on road pic.twitter.com/DIoyuofaQK

— ANI (@ANI) February 15, 2018
Opposition party also makes the chance out and slams the government and demanded the resignation of the minister also.
Kalicharan saraf's this shameful act is not only criticized by common people but celebrities are also slamming him. .
Indian cricketer Harbhajan Singh twitted on his account that "setting right example??? Rajasthan Minister urinates on Roadside, says 'not a big issue'"
Setting right example???Rajasthan Minister Urinates On Roadside, Says "Not A Big Issue" – NDTV https://t.co/OkoH8JFf47

— Harbhajan Turbanator (@harbhajan_singh) February 15, 2018
This is how Twitterati reacted over the matter;
He is environmental friendly paaji….Look he is giving life to dying plant.,☺️☺️☺️☺️

— Dr.Aashish kumar👁 (@beingashisharya) February 15, 2018
Paji control nahi ho raha hoga to phir kya kare ge car to new thi

— paji ROCK (@pajirock) February 15, 2018
Swachh Bharat Abhiyan waah yhi campaign chal rha h na jub politicians hi gandh phaila rhe ho to janta kya sikhegi 😕😕😕😕😕😕😕😕😠😠😠😠😠dadaji control nhi hota to bottle sath me rakha kro gandh mt phailao😳😳😳😳😳😳😳😳😳😳😳😳

— NitikaSingh☺☺☺ (@ImNi97) February 15, 2018
This is the main problem in our country. Where the leader doing the wrong thing n after that they sing songs for cleanliness.

— Devendra sharma (@Dev890530) February 15, 2018
Sir, log chahe jitne bhi bade aadmi ban jaye lekin unki harkat yehi se pata chal jati h

— Kushagra Tripathi (@Kushagra10501) February 15, 2018
This is time to see how PM Narendra Modi will react on it. Urinating on roads is illegal and calls for a fine of Rs 200 but it is hard to say whether the fine is charged from the minister or not??

By: Anurag Panchal