7 Times When Beauty Queens Shut Down The Social Media Trolls
Social media is a platform where one can share his/her views openly, but this is seen that people use it to spread negativity instead admiring the positive things. However, the trollers target the Bollywood queens, sometimes they keep mum, but sometimes their witty replies teach the troller a great lesson for the social media trolls. Have a look:
Swara Bhaskar: she is one of the celebs who raised their voice against the brutal Kathua rape case. Swara, as a part of the campaign, posted a pic holding a piece of paper with a message written on it, but a twitter user tried to troll her but her strong reply made him to delete the post.
https://twitter.com/ReallySwara/status/984901970254352384
2. Neha Dhupia: A troller was trying to troll her for her dress that he had worn at Femina Miss North India event but her epic reply is just a sassy.
https://twitter.com/LifeRemakes/status/984546713653403650
https://twitter.com/NehaDhupia/status/984633144329605120
3. Divyanka Tripathi: A twitter user was trying to teach her dressed up properly but her reply will make you proud of her.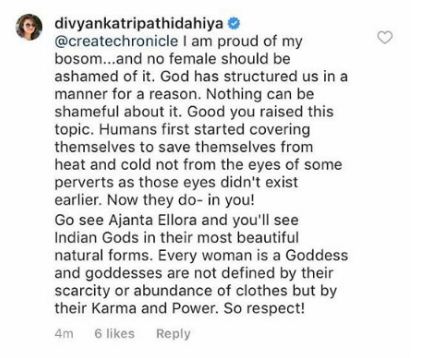 4. Richa Chadha: sometimes trollers go beyond the limit and try to troll actresses for their work and profession, but Richa is not the one who allows such kinds of thing by keeping silent but she tackles the trollers boldly. This is the time when a man tried to troll her for demanding justice for Kathua rape case.
जो खुद चड्ढी उतारने के लिए हर फिल्म में दिखती है वो चरित्र का ज्ञान बाँट रही है

— Rampat Haramai (@HaramaiRampat) April 10, 2018
"#YoTrollSoSanskari he be lecturing me on Chaddis and be posting legit porn. This one REALLY cracked me up. 🤣🤣🤣"
5. Sania Mirza: as everyone is deeply affected by the heinous rape case in Kathua, celebs including Sania Mirza also raised her voice, but a twitter user targeted her for being married in Pakistan.
With all respect madam which country are you talking abt.Last time I checked u had married into Pakistan. You no longer are a Indian. And if u must tweet thn also tweet for the innocents killed by Pak terror outfits..

— Kichu Kannan Namo (@Kichu_chirps) April 12, 2018
First of all nobody marries 'into' anywhere .. you marry a person! Secondly NO LOW LIFE like you will tell me which country I belong to.. I play for India,I am Indian and always will be.. nd maybe if u look beyond religion and country one day you may just also stand for humanity! https://t.co/0rF9SwG7WT

— Sania Mirza (@MirzaSania) April 12, 2018
6. Mayanti Langer: the sports journalist, host and Indian cricketer Stuart Binny's wife- Mayanti Langer is quite active on social media and enjoying a huge fan following and people just love watching her on screen. A fellow Twitter user was trying to impress her, but her reply proves her that she is truly a beauty with brain.
When I see you. I dnt mind watching IPL. You are a perfect blend of class & personality. I wish I was influential enough to take you dinner. I dont have words to say how beautiful you are. ❤️❤️❤️❤️

— Fahad (@fahadkhan616) April 8, 2018
https://twitter.com/MayantiLanger_B/status/983232446383689730

7. Sania Mirza: Indian tennis player is always a target for being married to Pakistan cricket and she also avoids the questions related to her personal life. During Goa Fest 2018, a journalist asked her about the surname of her child and her answer is admiring.

"Today I will tell you a secret. My husband and I have spoken about it and we have decided that whenever we have a child, the child will have Mirza Malik as a surname and not just Malik. So that's where we stand as a family including my husband. He actually wants a daughter."

By: Anurag Panchal